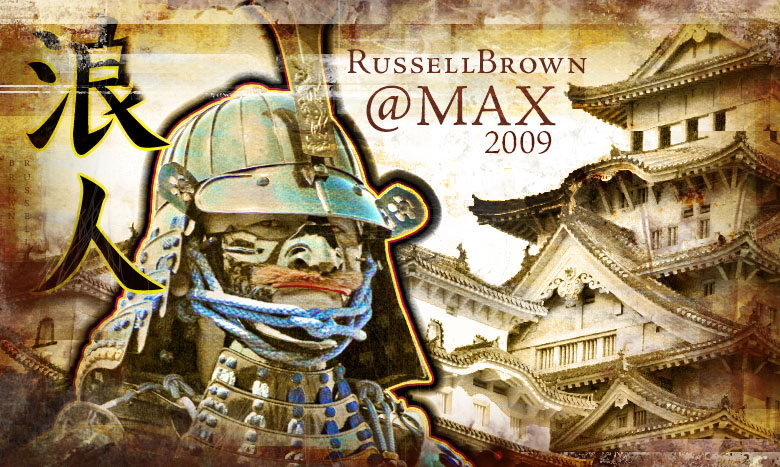 The Russell Brown @ MAX experience is an amazing three-day, hands-on course that brings together top art directors, designers, illustrators, and photographers to learn advanced imaging tips and techniques with Adobe Photoshop CS4. Starting with basic camera raw ingredients, each attendee will cook up some amazingly creative projects in this year's "Seven Samurai" movie poster event.
Get going with Adobe Senior Creative Director Russell Brown and the distinguished members of his Seven Samurai team. This assembled group of experts represents some of the best designers and instructors in the industry. Taught on the latest Mac computers, the Russell Brown @ MAX experience offers a limited class size and an intimate, inspiring environment for in-depth instruction on Adobe's Creative Suite 4 applications. This unique, project-based class gives you time to ask questions of industry experts and network with others in your field. If you like crazy and inspirational events, then this is what you've been waiting for.

Each student will produce a finished Hollywood-style movie poster from concept to print. The theme of the event is Seven Samurai Warriors. Also, during the evening events, students can customize a specially designed iPhone application with the Samurai graphics produced in class. If you own an iPhone then you'll be able to install the finished Samurai application onto your very own phone. WOW! – That's cool!

Basic studio equipment and lighting with strobes
Green screen techniques
Getting up to speed with the latest CS4 features
Integrating 3D models into 2D images
Adobe Camera Raw imaging magic
Advanced masking techniques in Adobe Photoshop CS4
An overview of the best actions, panels, and plug-ins for creative Photoshop effects
Advanced compositing techniques
Best color-managed workflow for outputting to print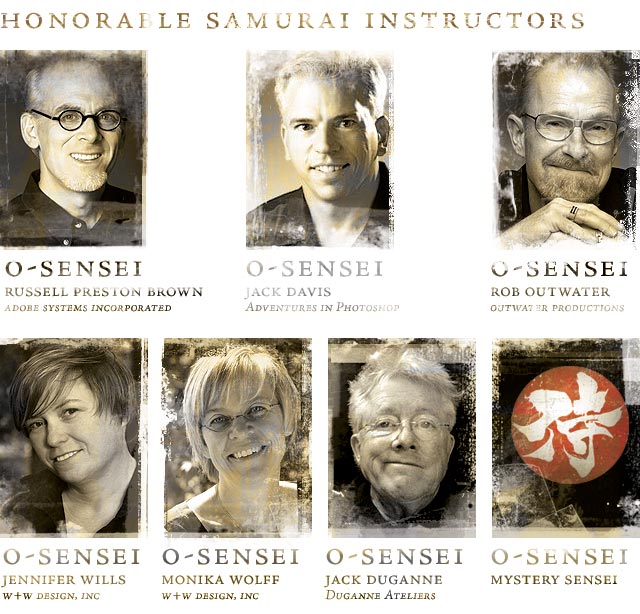 Starting in the studio with Rob Outwater, students will learn the basics of positioning and use of a typical studio strobe lighting system. We will set up lights, screens, diffusers, umbrellas, and softboxes. Our models will be a a samurai warrior. Students will use their own camera or a supplied one and plug into the strobes under Rob's guidance. Lighting styles will be dictated by each student's design concept.
After capturing the samurai character on camera, students will upload their Raw image files into their Macintosh workstations and open the files in Adobe Bridge. From here, Russell will begin his greenscreen masking magic in Photoshop CS4. After successfully masking the images he will demonstrate a collection of his favorite creative camera raw adjustment techniques.
Next, students will drop their images onto their choice of scenic backgrounds and begin to learn the essentials of image compositing and enhancement with the help of the amazing Jack Davis. Jack will review some of his favorite filters and presets to style the images in ways you did not think were possible. To help with this project, each computer will be equipped with a valuable collection of samurai-inspired typefaces, as well as a Wacom tablet.
Finally, each student will use a large-format printer, provided by Epson, to produce a 13x19-inch Hollywood-style movie poster. To cap off the event, the movie posters will be displayed at the MAX opening night reception! Special prizes will be awarded for the movie poster that is voted best of show.

Apple iMac computer - PC users welcome!
Remember, all the Photoshop techniques that are taught on these Macintosh computers will directly apply to PC versions of Adobe Photoshop CS4.

Students will be creating a movie poster from the images that are captured in class and any additional images you might bring with you. With the help of one of our sponsors, iStockphoto, students will also have access to a large library of images from the iStock site. Students are welcome to bring their own cameras or use the available cameras in class. Start thinking about your design now and be prepared to bring your design to life in class.

This Russell Brown class is available only to attendees of the MAX conference and cannot be paid for separately.
The Russell Brown Experience + Adobe MAX conference price: $1795
Location: Room 501 B/C
Limited to: 50 MAX attendees

Three days of instruction, including studio photography techniques
Continental breakfast each morning of the event
Lunch each day of the event
Three days of events during the general MAX session
Access to the MAX keynote presentation on Monday morning
Access to the MAX opening night reception
CD collection of tips and techniques from Russell Brown

Saturday, October 3
8:00 am – 9:00 am Continental breakfast
9:00 am – 12:00 pm Studio photography and calligraphy session
12:00 pm – 1:00 pm Lunch and work session
1:00 pm – 5:00 pm Russell Brown & Jack Davis techniques session
6:00 pm – 9:00 pm Creating Samurai iPhone applications (optional)


Sunday, October 4
8:00 am – 9:00 am Continental breakfast
9:00 am – 12:00 pm Russell Brown & Jack Davis techniques session
12:00 pm – 1:00 pm Lunch and work session
1:00 pm – 5:00 pm Russell Brown & Jack Davis techniques session
6:00 pm – 9:00 pm Final poster printing and work session


Monday, October 5

9:00 am – 11:00 pm Opening Session for MAX
11:30 am – 1:00 pm Russell Brown & Jack Davis techniques session
1:00 pm – 2:00 pm Lunch
2:00 pm – 5:00 pm Finalize Samurai iPhone applications
6:00 pm – 8:00 pm Welcome reception and final poster showing

Sheraton Los Angeles Downtown Hotel
711 South Hope Street
Los Angeles, CA 90017
Phone: 213-488-3500
Transportation from the hotel to, Russell Brown @ MAX will not be provided.




Russell Brown@